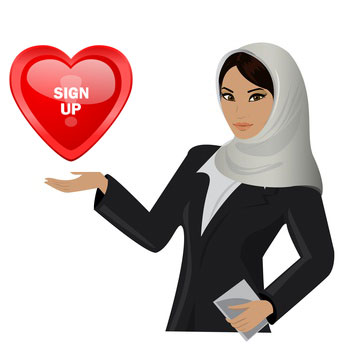 HOW TO USE MarryMeCity website: step by step:


1. INTERESTING PROFILE:
Your Virtual Image and first impression is very important- try to complete your profile and make it as interesting as possible. Quick answers like 'I will tell you later' won't help you in your search of life partner. On the contrary, it will put off most people who visit your profile. Don't expect a reply from ladies if you do not provide information about yourself, nobody wants to correspond with an unknown'ghost'.


2. PHOTO:
No need to remind you that at least 70% of success depends on how you look on your photo. It doesn't mean photo should be handsome, but neat, tidy, serious look with a touch of a kind smile is a MUST for your success. A special tip if you are looking for practicing muslim lady - a photo in Arabian clothes is an advantage and you will receive at least 2-3 times more responses.


3. WISE SEARCH:
So, your profile is completed. Now you can start your search - it is available from the website's menu. Usually all people search for profiles with photos only. Try to do a search for all profiles with photo and without photos alike- some ladies are too shy to publish their pictures on the internet but will gladly send you upon your request. Moreover, you will stand a better chance by contacting members without photos as they don't receive as much messages as members with appealing photos. Try to send messages to few ladies, it will give you a better chance since not all ladies will reply. It is a Russian custom, in order not to offend the sender. She will not reject you, if she is not interested, she just simply won't reply.


4. TEMPLATES:
Message from our templates (pre-defined, in two languages).
Marrymecity.com gives you an unique opportunity to send your first messages at a single click - besides, this message will be in lady's native language. No need to struggle anymore - just read all our templates, choose the one that is suitable, it has already been translated and the lady will receive it in both languages. Besides, messages from templates are free for all members. To read full templates, click here or read below:
http://www.marrymecity.com/page/quickmessages/


5. UPGRADE MEMBERSHIP:
The next step in your search for a ife partner - now that you have become familiar with site's facilities, with ladies' profiles and most likely already received some responses. Remember, we give our ladies freedom to write their own messages but message from non-paid-up members will be delivered with a special filter (i.e. all possible contact details such as email, phone number, skype etc) will be completely cut off. So in order to contact the lady to send her a custom message, and be able to give her your email etc, you need to upgrade your membership. You might come across a question - if she is non-paying member, will she be able to receive my messages with my contact details? Yes - all ladies can receive messages in full as it is. And with a paid membership you can contact up to 50 ladies per day, use chat, leave messages with your contact details in their guestbooks.

Your payment will go to benefit this Islamic marriage project - the fee is very low - just to make up the cost for running site, services, support team. etc.


As an option with paid membership you can request short translation of your profile - it can be done FREE.

Extra services:
a) make your profile featured (12 USD per month, your profile will be placed on 1st page for 1 week)


b) your profile to be sent as featured profile in our next newsletter to all ladies (including Russian translation). It will give you great exposure and much more chances to be contacted by ladies.


6. BEWARE OF SCAMMERS:
The final step - if by now you already upgraded your membership and in active correspondence. Please remember the GOLDEN rule: NEVER send money to a person whom you don't know - there are too many scammers on internet, besides, a genuine Muslim lady will NEVER ask you for money, even be it for passport, visa or ticket. In case if you you came across a suspicious profile, report us immediately. We are trying our best to filter our members, however your input will be of a great assistance.